Bandoliered Parts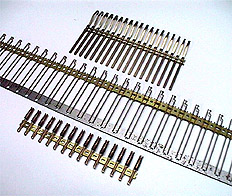 Bandoliered parts have advantages that the other methods do not have; such as:
Make parts on a bandolier to a predetermined close centerline. This allows the assembly of several parts at a time
Permits the use of a low cost bandolier carry strip such as cold rolled steel.
Also, a bandoliered carry strip may have two different parts on the correct centerline for automated assembly which would reduce assembly cost dramatically.
For more information on our capabilities please call the Hugin Sales Department today at (916) 652-1070 or email: hci@hugincomponents.com